Historical Notes: "Bannock, a simple type of scone was cooked in pioneer days over open fires. Variations in flours and the addition of dried or fresh fruit make this bread the simple choice of Canadian campers even today. Oven baking has become an acceptable alternative to the cast iron frypan. McKelvie's restaurant in Halifax serves an oatmeal version. For plain bannock, omit rolled oats and increase the all purpose flour to 1 cup…. One of the earliest quick breads, bannock was as simple as flour, salt, a bit of fat (often bacon grease) and water.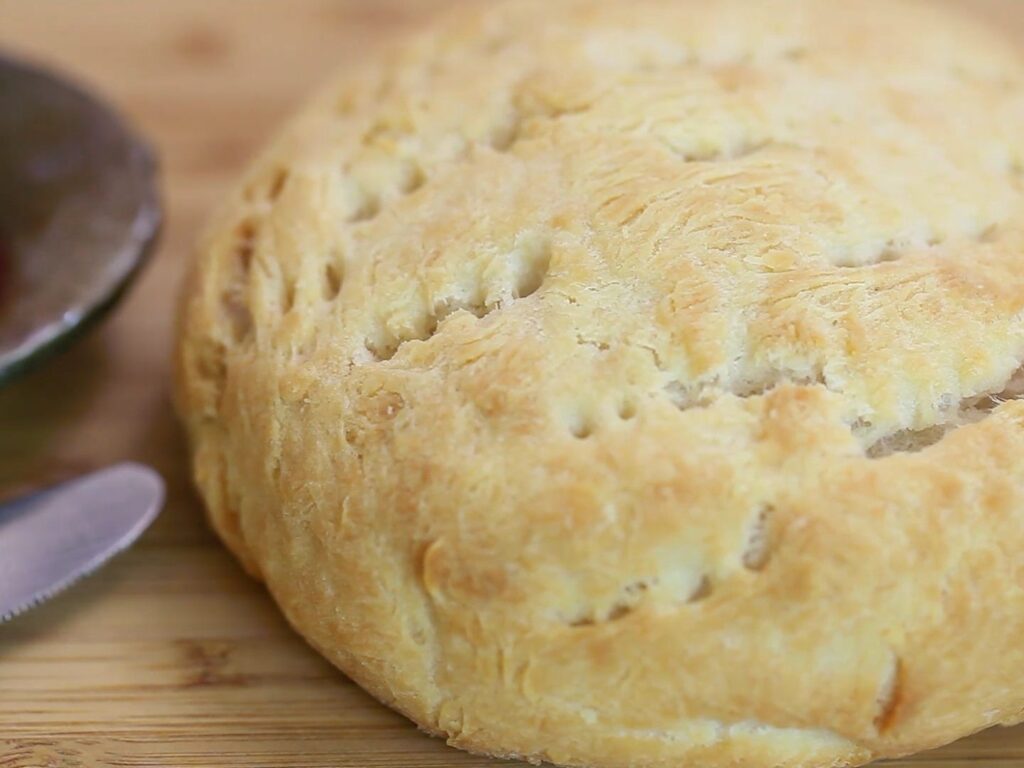 In gold rush days, dough was mixed right in the prospector's flour bag and cooked in a frypan over an open fire. Indians wrapped a similar dough around sticks driven into the ground beside their camp fire, baking it along with freshly caught fish. Today's native 'Fried Bread' is like bannock and cooked in a skillet. Newfoundland's 'Damper Dogs' are small rounds of dough cooked in the stove's dampers while 'Toutons' are similar bits of dough deep fried.
At a promotional luncheon for the 1992 Inuit Circumpolar Conference, Eskimo Doughnuts, deep fried rings of bannock dough, were served. It is said that Inuit children prefer these 'doughnuts' to sweet cookies. Red River settlers from Scotland made a frugal bannock with lots of flour, little sugar and drippings or lard. Now this same bread plays a prominent part in Winnipeg's own Folklorama Festival. At Expo '86 in Vancouver, buffalo on bannock buns was a popular item at the 'North West Territories' restaurant.
In many regions of Canada, whole wheat flour or wheat germ replaces part of the flour and cranberries or blueberries are sometimes added. A Saskatchewan firm markets a bannock mix, and recipe books from coast to coast upgrade bannock with butter, oatmeal, raisins, cornmeal and dried fruit."
Source: "The First Decade" chapter in "A Century of Canadian Home Cooking"
---
Cree Bannock Bread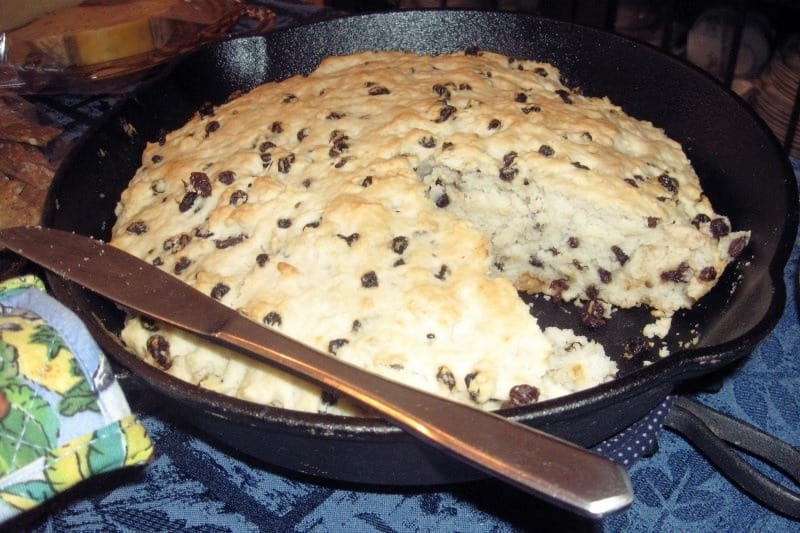 Ingredients:
6 Cups flour
1 Cup lard
3 tbsp baking powder
1 tbsp salt
2 Cups currants or raisins
3 ˝ cups water
You'll also need a medium sized mixing bowl.
Directions:
In the bowl, mix the flour and lard together by hand.
Then add the baking powder, salt and the currants or raisins.
Once this is done, add the water and work the ingredients into a dough.
Next, you have two options: the camp fire or the oven.
To cook over a camp fire, divide the dough into four lumps and firmly wrap each lump around the end of a four foot stick and prop securely over the fire until golden brown.
To cook in an oven, spread the dough out into a 16″ square cake pan.
Bake at 425 degrees for about 20 minutes or until golden brown.
---
Epangishimog Pakwejigan
(Shuswap Bannock)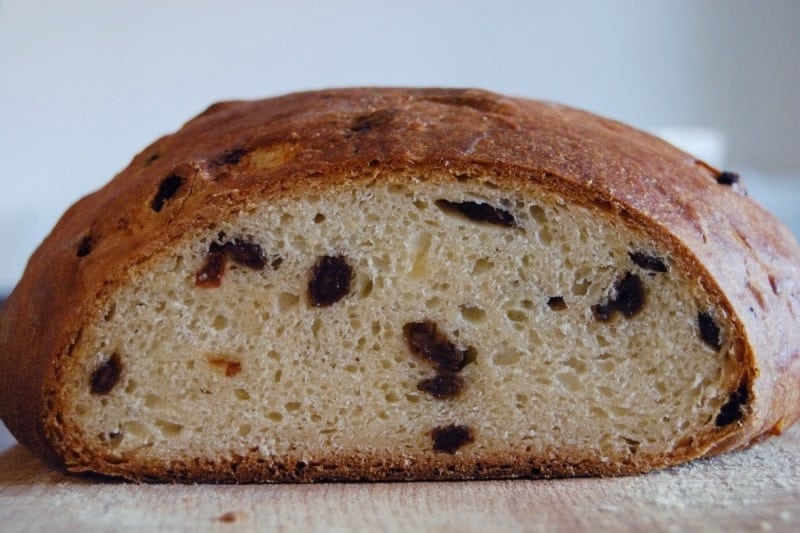 A delicious blueberry bread!
Ingredients:
3 cups all-purpose flour
1 tbsp baking powder
1 1/2 tsp salt
1 1/2 cups water
1 cup blueberries
Directions:
Mix the dry ingredients together, then add the water quickly & continue to stir.
Add the blueberries and mix into batter.
Spread batter on a pie plate & put in a preheated oven, heated to 425 F.
Bake for 20 minutes. Cut in pieces & serve hot or cold.
---
Bannock Bread
Ingredients:
1 cup whole wheat flour
1/2 cup all purpose flour
1/2 cup rolled oats…..optional
2 tbsp sugar, granulated
2 tsp baking powder
1/2 tsp salt
2 tbsp butter, melted
1/3 cup raisins….optional
3/4 cup water, approx.
Directions:
Stir together flours, oats, sugar, baking powder and salt.
Add melted butter, raisins (if using) and water, ~ adding more water if needed to make sticky dough.
With floured hands, pat into greased pie plate.
Bake in 400 F oven for 20-25 minutes or until browned and tester comes out clean.
Cut into wedges. Serves 6
VARIATIONS: In place of raisins you can add chopped dried apricots or fresh berries.
---
Bluenose Potato Bannock Bread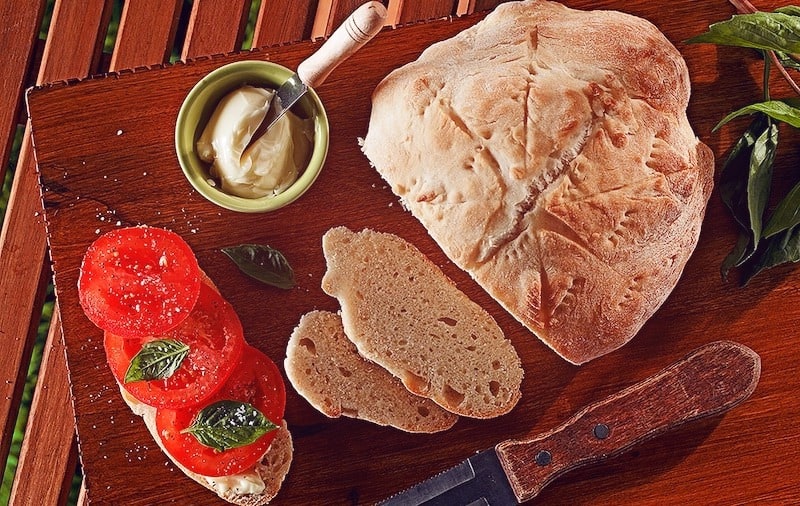 Ingredients:
2 1/3 cups of flour
1 tsp salt
2 tbsp baking powder
4 tbsp sugar
2 tbsp shortening
3/4 cup mashed potatoes
1 cup cold water
Directions:
Combine flour, salt, baking powder and sugar.
Cut in shortening until the mixture resembles coarse meal.
Stir in the potatoes. Stir in the cold water and mix, using a fork.
Knead gently, 8-10 times, on a lightly floured board, working in any extra flour that may be required to overcome the stickiness of the dough.
Place on an ungreased baking sheet and pat down to form an oval shape, about 3/4 to 1″ in thickness.
Bake at 450 degrees F (230 degrees C) for 17-20 minutes.
Serve hot or cold.
Good for 8-10, unless there are kids around and then it might last 30 seconds!